Replication of the LIFE BACCATA restoration strategy in Galicia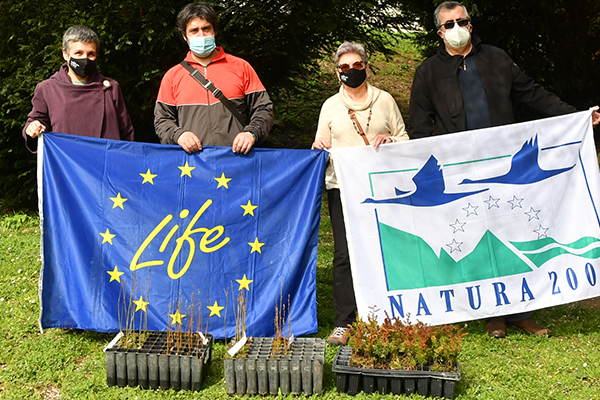 On the occasion of the execution of LIFE BACCATA project, the
IBADER from Terra Campus (Lugo)
of the
University of Santiago de Compostela
has carried out an experience of exchange and transfer of information and knowledge generated by the project with
Asociación para a Defensa Ecolóxica de Galiza (ADEGA),
on the conservation and restoration of forest habitats with yew (
Taxus baccata
).
The experience has been carried out at Eira da Xoana (A Golada, Pontevedra), a non-profit foundation in which ADEGA carries out experiences of education and recovery of natural heritage. IBADER, as beneficiary for the restoration actions of yew forests in Galicia, has donated to ADEGA a part of the plant generated by the project as forest reproductive material, to celebrate a yew planting day. In this way, on March 6th, ADEGA organized a planting day for the yew trees produced by LIFE BACCATA, so that in this event the techniques used and the results obtained by the project have been replicated.
The plant generated by IBADER has as its origin genetic material from Galicia, so that the project has ensured the use of compatible local material during restoration work, avoiding genetic contamination that occurs when foreign ecotypes are introduced. The use of the plant generated by IBADER for LIFE BACCATA ensures the replication of the project results by ADEGA.
This event has been framed by ADEGA in its campaign "The yew tree: let time take its course", in which a slow-growing tree species that is emblematic of the Galician mountain is valued, and that serves as a metaphor to vindicate a leisurely lifestyle respectful of the natural environment, habitats and species. In this way, LIFE BACCATA has generated an interesting synergy with this interesting campaign.