Upgrading work in the Priority Habitat 9580* at Pagoeta Nature Park (Guipuzkoa) is making a good progress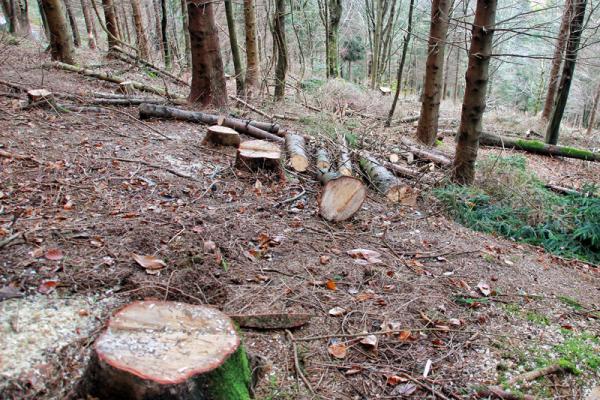 Yew tree populations —the featuring specie of the priority habitat 9580*— at the Pagoeta Nature Park (Gipuzkoa) are well represented. These populations are comprised of a large number of specimens and thanks to the nature space management, the regeneration dynamics is quite striking.  
However, there are two situations observed in need of intervention.

Image 1
Abundant regenerated yew and holly trees in a beech forest which was cleared two years ago  
On the one hand, there are some female specimens of a good size which should be producing seeds but they are not because other dominant tree formations stand in the way. The lack of sun light is behind these ‵matriarchs′ reduced reproductive function. This is particularly relevant in Pagoeta hence older yew trees are hardly abundant.

On the other hand, there are some extensive areas that receive seeds from yew trees and their companion species (holly, Albar hawthorn and butcher's broom trees); however their tree canopy is so thick that it hinders their development. This strongly affects some spruce, Lawson cypress and Douglas fir tree plantations, although native forests such as beech woods are also affected.

Image 2
A generated gap around a female yew. The tree crown defoliation and the presence of dead branches can be observed, a sign of the lack of sun light.
To reverse both problems, Hazi Fundazioa hired some forestry labourers aimed at generating forestry gaps around the seed-producing ‵matriarchs′ so that they can receive sufficient light.
Clearing work is also taking place in forests that receive seeds from the 9580* priority habitat featuring species. To this end, tree felling and girdling tasks are carried out. The latter technique, which consists of making a cut around the entire tree circumference, enables the production of standing dead wood (snags), an interesting aspect to enhance the Pagoeta forest biodiversity.
To follow the guidelines set out by the Gipuzkoa Provincial Council, which manages the Nature Park, these works that started in this autumn will go on throughout the winter 

Image 3
Cleared stand to contribute to yew trees and companion species regeneration. Felling residues, especially branches, are spread out to attract dispersing fauna so that regeneration can be initially protected.